UPS picks up my Xbox 360
Tuesday 10 Apr 2007 17:16
Xbox 360 returns experience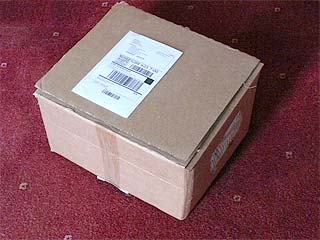 Now its my ex box
As promised I received my label via email from Microsoft UK. I had to print it out elsewhere as my printer's out of ink. I then boxed just my Xbox 360. No hard drive, no controllers, no games or cables - just as instructed.
The label even included the number to phone for UPS to pick up my Xbox 360 (which is folded to the back). I rang and got through to a phone menu with speech recognition. After speaking my phone number I was instructed that there was no pickup for my area, but once I got through to an real person, I found in fact it was no problem.
Just a few hours later the UPS man arrived. I told him it was my Xbox 360 and it was quite revealing to find out from him that they dealt with quite alot of Xbox 360 returns. He even had a good idea of the turn-around which he said was pretty quick at the moment, as little as a week. This is some relief after being told it could be up to 15 working days (3 weeks) by Microsoft. Time is critical to me as I have friends coming to stay with me from Australia and I know the Xbox was something the kids were looking forward to playing on.
Well I guess its time to wait and see what happens. So far so good.
Related articles
Comments(10)