How to Build a Minecraft Piston Mob Grinder
Sunday 09 Oct 2011 12:05
A minecraft piston mob grinder collects mobs such as skeletons, zombies and spiders, and then channels them to a grinder where they are crushed by pistons. Mob drops such as arrows, bones, sulphur and string can then be collected. This step by step guide will show you how to build one.
Interactive floor plan
Use the interactive guide below to build the mob grinder. After the first two spawning floors, repeat those floors as high as you like.
Spawning floors
Mobs spawn on floors with a checkerboard of holes. These floors give enough space for mobs to spawn while also having a high chance they will fall down to the floors beneath. These floors are enclosed and dark so mobs can spawn even in the day time. Spawn floors are 3 blocks high. 1 block for the floor and two more providing just enough space for mobs to walk around (but not Endermen). In the screen shot below I've cut away the front of the tower to show the spawning floors.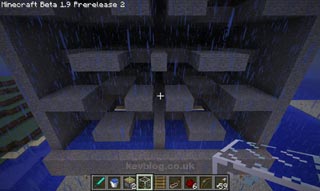 Spawning Floors (front wall removed)
Water channels
The floor above the grinder has four large water channels drawing mobs to the center.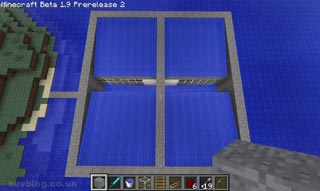 Water channels
Grinding floor
When mobs fall to the grinding floor, channels on the left and right of center draw them to blocks of 6 pistons. A redstone circuit makes these pistons compress and open constantly, crushing mobs that get between them. A small delay between each side of the pistons gives enough time for drops to be pushed to one side where they flow through a single block hole.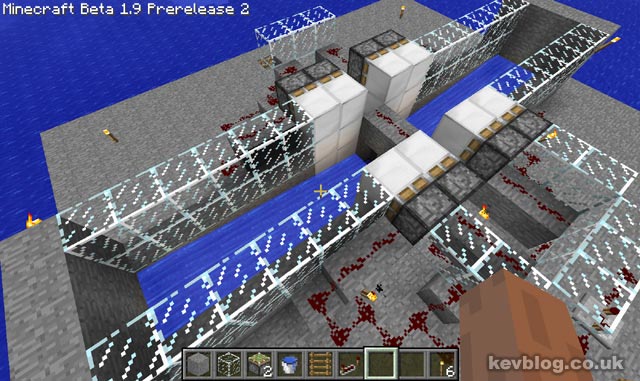 Piston Mob Grinder
Loop circuit
Switch or pressure plate A initially powers the circuit. Current flows through points 1, 2, 3 then 4. Repeaters delay the current and so it loops endlessly. Repeater B sends the current out of the loop to power the pistons to the left and right. From repeater B, current can travel 15 blocks before running out of power. Repeaters only allow current to travel in one direction.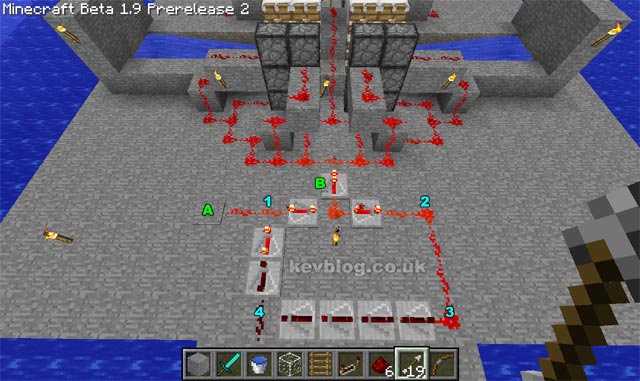 Loop circuit
Overall circuit
Current comes out from repeater B to sets of pistons 1 and 2. Current travels over bridge C and repeater D boosts the current up to a further 15 blocks to power piston sets 3 and 4. Repeater D also performs a vital function by delaying the pistons on one side slightly. This means mob drops get pushed to one side and so can flow through a single block hole (a 2 block would allow spiders through).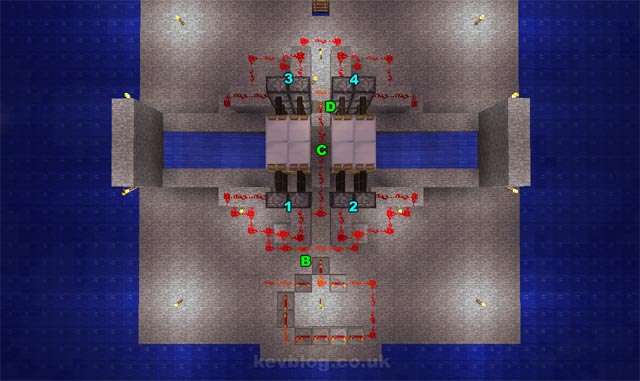 Overall circuit
Pistons set 1 or how to power 3 vertical pistons in a 2x3 grid
Redstone wrie A directly powers piston 1. Restone write A gives power to block B which powers piston 2. Restone wire C powers bottom piston 3.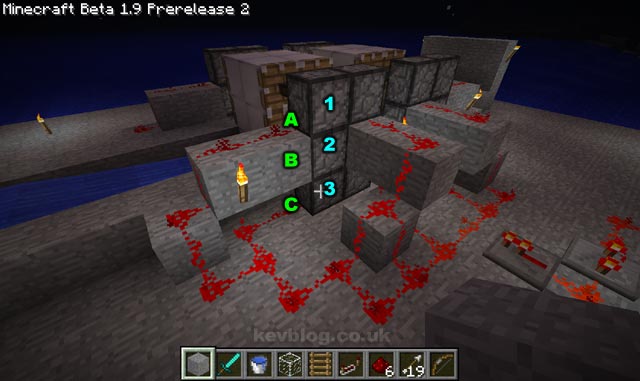 Pistons set 1
Pistons set 2 or how to power the other 3 vertical pistons in a 2x3 grid
Restone wire A powers piston 1. It also powers block B which in turn powers piston 2. Redstone wire C powers piston 3, despite Minecraft's graphics showing it branching to the right where it also goes over the bridge to the sets of pistons on the other side.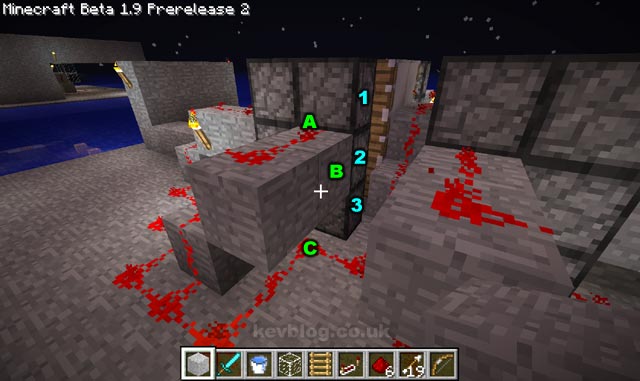 Pistons set 2
Circuit bridge
This small bridge takes the redstone to the pistons on the other side. You can also the single block beneath that stops spiders getting out while leaving a one block hole for items dropped to flow through.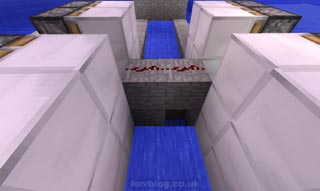 Circuit bridge
Related articles
Comments(11)