Minecraft Piston Lighthouse
Saturday 23 Jul 2011 10:33
The Minecraft piston powered lighthouse uses sticky pistons to reveal and hide a netherrack bulb in sequence, giving the illusion that the light is circling round like a true lighthouse. It was developed by myself (Kevblog) and Bl0ke. We used Plotz online Minecraft modeller for the basic lighthouse model and then adapted that with the piston system. To look 'correct', all the redstone wiring had to go on the inside of the bulb meaning the circuit had to be very tight. See the lighthouse in action below:
How the piston lighthouse works
At the base of the lighthouse bulb, a row of 3 sticky pistons go up. From the roof, 3 pistons come down at the same time. This hides the bulb at one of the 4 sides. When the pistons lose power, the bulb is revealed again. The redstone power loops in a circle using delayed repeaters, and each side follows the other in turn. The base and roof circuits are the same and are initially powered at exacly the same time to run together.
The circuitry
See the screen shot below. The power initially comes in at the bottom left. A repeater directs it to the left hand (9 o'clock) set of 3 pistons. The power comes out into a repeater with the highest delay and then powers the top (12 o'clock) set of pistons. This process repeats around the the right hand and then bottom set of pistons then continues in and endless loop. The intial power comes from a switch and so has died out (a constant power source would have left all the pistons on all the time).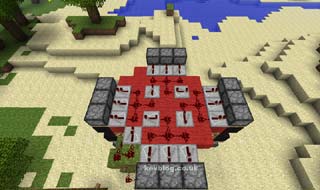 The lighthouse 'roof' circuit. The base is the same.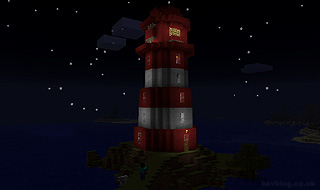 Minecraft piston powered lighthouse at night
Update: I've added the circuit video below:
Not quite perfect
The tight circuity means there isn't enough room to keep the wiring which powers the roof circuit on the inside. It juts out slightly, so we've placed this on the least likely to be seen side of the lighthouse. This 2x2 spiral of blocks takes the power from the bottom to the top. I know 1x1 vertical power can be acheived, but it also had a delay. In this case the top and bottom circuits must be powered at the same time. A lot of people are requesting vertical redstone wiring. If Notch were to implement this, such problems would be solved.
Related articles
Comments(19)