How to build a Minecraft Mob Grinder
Sunday 30 Jan 2011 15:06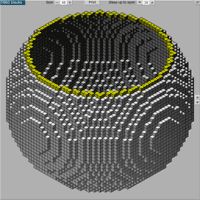 related article:
online voxel sphere generator
for Minecraft
A Minecraft mob grinder will gather, trap and kill mobs collecting their drops such as arrows, sulphur and string. This guide will show you step by step, complete with screenshots and interactive floor plan, how to build one.
Update: check out my Minecraft Piston Mob Grinder
How the mob grinder works
The mob grinder is a tower with floors where there is no light so Minecraft mobs such as spiders, zombies, and skeletons will spawn, even in day time. The mobs walk around and drop through holes in the floors. On reaching the first floor, water traps channel them through holes to their fate, a water ride into lava where they die and their drops are collected.
How to build the mob grinder
1. Start by building a base, 23 x 23 blocks. The base dimensions come from the first floor which will be made of:
1 block for the outer wall
2 blocks for the drop hole through which mobs fall
8 blocks for the flowing water which carries mobs to the drop hole
1 block spacer (to separate the next flowing water)
8 blocks for the flowing water which carries mobs to the drop hole
2 blocks for the drop hole through which mobs fall
1 block for the outer wall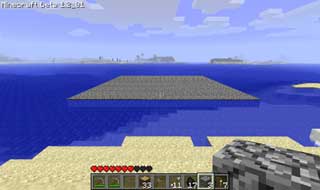 Mob Grinder Base
2. Build a water channel. Mobs fall from the first floor through a 2 x 2 hole in each corner. They fall to the ground floor where a 2 wide by 8 long water channel pushes them to their doom. Water flows over 8 blocks and then stops, but items will carry on and fall if there's a drop at the 9th block. Collect and place water using buckets made from iron. Here's 1 of my water channels:
Water Channel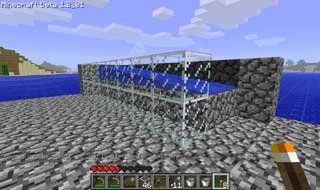 Water Channel
3. Build a lava trap. The mobs are killed using lava. To prevent the stuff they drop being incinerated you use a 'feature' of the game where lava will flow over an empty block if a ladder is placed on an adjoining block. In the screen shot below, see how the lava juts out over the 'empty' block allowing items from the mobs that die to fall. Collect and place lava using buckets made from iron.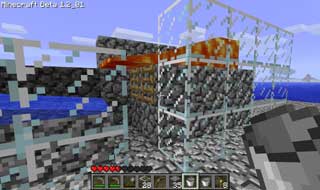 Lava Trap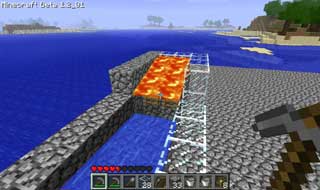 Lava Trap
4. Make a water collector. Add another water channel to collect fallen items from the mobs that die like below.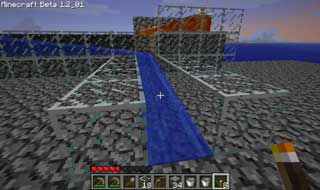 Water Collector
5. Now you'll need to repeat steps 2-4 to build the water channel and lava trap for each corner. Join the wall up around the side and you have built the ground floor of your mob grinder tower. The hardest bit is over.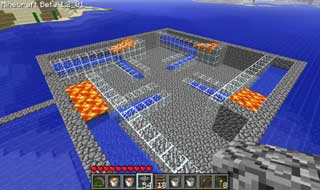 Ground Floor
6. Build the collecting floor. This floor extends beyond the grinder to allow 4 water channels around each of the 4 corners of the floor below. Mobs on this floor will wander around and eventually end up in the water which will channel them to the corners and down to the ground floor. Note this floor is 2 blocks deep to allow a solid block for the water flow to sit on.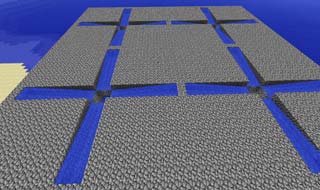 First Floor
7. Build as many other floors as you like. The floors above the 1st floor do not need water channels. They just need to have holes in the floor through which mobs can drop. Mobs will happily drop down holes with a drop of 2 or 3 blocks. DO NOT have any overlapping holes from one floor to another otherwise the mobs will not drop. I've found a checkerboard pattern of 4x4 solid then 4x4 holes very successful giving plenty of space for mobs to spawn as well as a good chance for them to drop to the floor below. If doing this, alternate the solid and holes on each floor so that mobs only have to drop 2 blocks to the floor below. These floors should have 2 blocks high space for mobs to spawn and walk around in. The roof of your top floor must be completely sealed so all floors are dark and mobs can spawn there, even in day time.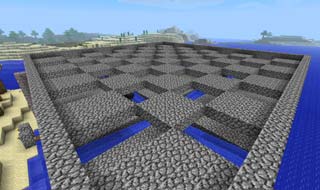 Second Floor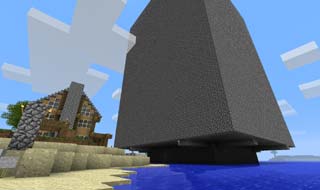 Mob Grinder
The completed mob grinder in action! A spider burns to death on the lava. Items dropped by other mobs that have died have been carried by the water channels to the middle.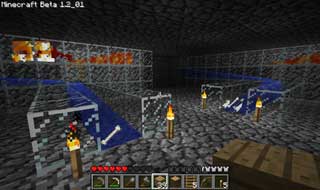 Mob Grinder Trap
Some final notes:
Mobs will only spawn more than 24 blocks away from you OR 24 blocks away from your spawn point. Don't stand too close to your tower otherwise mobs won't spawn there. Don't build too close to your spawn point either.
More floors means more chances for mobs to spawn so add as many floors as you like.
I built my mob grinder out to sea hoping that mobs would be more likely to spawn in my tower than outside it as there is no land for them to spawn on. I don't know if this is true.
Put torches on your ground floor to stop mobs spawning there. Add a door for easy access.
A ladder up the side of your tower with filled in holes on each floor will provide easy access for maintenance or building more floors.
Have fun!
Related articles
Comments(112)