xleague.tv gamer TV channel
Friday 18 May 2007 21:23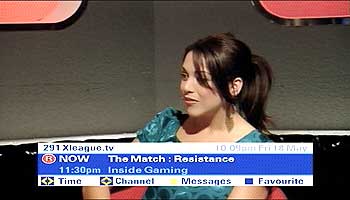 Presenter Emily Booth on Sky 279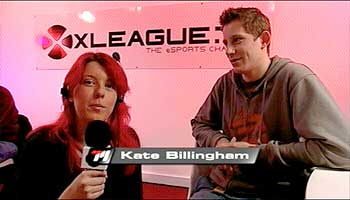 Interviewer Kate Billingham gives gamers a
chance to get close to a woman
As often happens I spotted a new channel on 'the Sky' the other night, but for once this one seems quite interesting. I stumbled over XLEAGUE.TV, channel 291, (Update: NOW 279), when I stepped one channel back from my bookmark on the movies channels (at 301). Gaming action from the new PS3 title Motor Storm instantly caught my attention. As Sky viewers will know, apart from a few programmes such as GAMER.TV, there's precious little to coverage of computer and console games, let alone a dedicated channel.
So what does XLEAGUE.TV offer? Well its a new channel, launched on May 16th, so I guess they need chance to build up their programme lineup, which while appearing a little sparse on the ground features some quality stuff. The main hook for me has been The Match. Here we get see to see lengthy multiplayer gaming action on such games as the aforementioned Motor Storm, Halo 2 and Gears of War. The presenters and guests at least seem to know what their talking about when introducing the gamers, games and providing commentary on the gaming action.
Other programmes I've seen include The Chart and Inside Gaming which features developer diaries and interviews. The channel is broadcast in widescreen which is very sensible given the nature of today's next-gen consoles. Let's hope they build upon their good start. There's a whole website too at (where else) XLEAGUE.TV.
Related articles
Comments(11)