Sky Satellite Movie Channels
Thursday 05 Apr 2007 10:21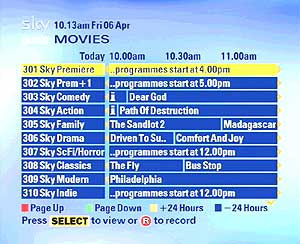 On April 4th 2007, British Sky Broadcasting restructured its movie channels 'to make your life easier', but they have yet to convince some customers that less is more.
The cold hard facts are that viewers have lost 2 channels with the number of movie channels (excluding HD) going from 12 to 10. One channel is the new Sky Premier repeated an hour later so you could argue there's even less. Some customers are also unhappy to see that 2 channels start at 4pm and another 2 at 12pm. That's a cut of total broadcasting time from 304 hours to 216 hours, or if you exclude Sky Premier + 1, 206 hours.
So is less more? Reading online I get the feeling that some customers are welcoming the new movie channel line with themed channels helping making choosing a movie to suit your mood easier. Others are not so happy focusing on the fact there are less channels and less hours broadcast, also arguing that repeating premiere movies everyday and having a +1 hour channel is all negated by Sky+, Sky's hard disk recorder which many customers own.
Me? I prefer the old system, but its early days.
The New Sky Movie Channels lineup
| | |
| --- | --- |
| Sky Movies Premiere | 301 |
| Sky Movies Premiere +1 | 302 |
| Sky Movies Comedy | 303 |
| Sky Movies Action/Thriller | 304 |
| Sky Movies Family | 305 |
| Sky Movies Drama | 306 |
| Sky Movies Sci-Fi/ Horror | 307 |
| Sky Movies Classics | 308 |
| Sky Movies Modern Greats | 309 |
| Sky Movies Indie | 310 |
| Sky Movies HD1 | 311 |
| Sky Movies HD2 | 312 |
Related articles
Comments(1)