Greenhills, San Juan, Metro Manila, Philippines
Thursday 31 May 2007 22:23
Vanila in Manila

Greenhills Shopping Center in the district of San Juan, Metro Manila, Philippines. Described as a 'bargain center', the bottom floor of Greenhills is a market place with a vast array of shops selling jewellery, clothing, souvenirs and more. There's lots to be had at cheap cheap prices, even though much of the clothing and accessories are fake with brands like Nike, Adidas and Oakley all available for rock bottom prices. The nicest part is that you can negotiate a price, so don't take the starting price for any item you want, either suggest a lower price or at least ask for a discount.
It seems there's been a push against pirated movies in the Philippines and I've not yet seen any openly available. One man however approached me with a list of recent movies such as 28 Weeks Later, and asked me if I was interested. I just gestured to him that I was'nt. Genuine top DVDs cost around £5 - 6 while older titles are even cheaper, leaving the market place for pirate titles mainly for current cinema releases.
Greenhills is big and I bought a lot of stuff, especially souvenirs to take home such as some decorated balls made from polished coconut shells and a picture frame made from the same material. These items match the colour scheme of my lounge quite nicely!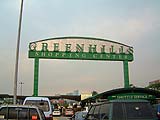 Greenhills Shopping Center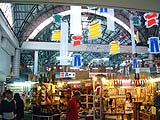 A maze of shops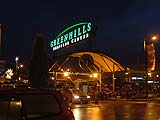 Greenhills at Night
On the way back from Greenhills I ended up at Santa Lucia Mall as we decided to do some grocery shopping there. I took the chance to check out the market stalls there for pirate movies and saw none. In sharp contrast there was a huge amount of software available including the cracked install of Vista. It seems obvious that pressure has pushed movies at least off open display in some areas.
Related articles
Comments(5)