Stilton Cheese, The King of Cheese
Saturday 14 Apr 2007 22:24
The good things in life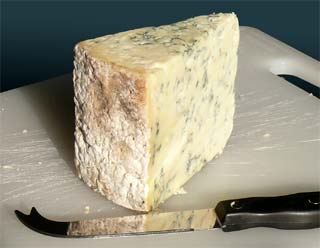 For me, Stilton Cheese is definately one of the good things in life. This distinctive crumbly, creamy textured and strong tasting cheese is simply awesome. I'm no connosseir of cheeses, and not a great cook, but with Stilton you don't need to be. I have it on its own, sometimes with savoury snacks, on pasta, on toast, sometimes as a sauce - and of course with beer.
I can recommend one recipe however. Stilton and Port sauce. Its awesome on a steak (did I say awesome again?), but also on practically anything else you fancy. Put some Stilton cheese in pan or glass jug. Melt it and add milk to thin it out a little. If you go too far you can always add some corn flour to thicken it up again. At any point you like, add some Port to taste. This makes an excellent creamy sauce with the taste of the Port. Lovely! Don't over heat the sauce (especially in the microwave) or it will go super thick.
The cheese with its blue veins running though it has strict rules governing it, including that is is made in one of the three English counties of Derbyshire, Leicestershire, or Nottinghamshire from local milk. You can find more about Stilton at the official site.
Related articles
Comments(1)