Chicago Town Deli Quiche
Friday 04 May 2007 17:55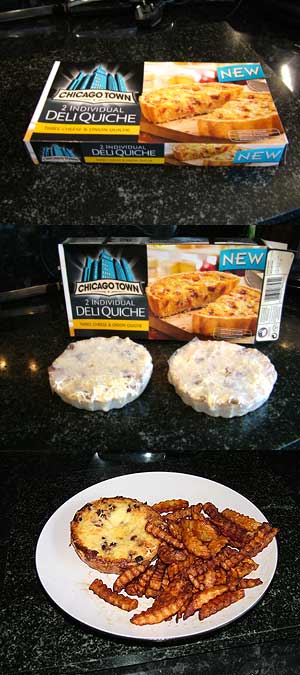 If there's one thing that makes this country great, its Chicago Town Pizza (yes, I know Chicago is in the USA). I guess they sell them in other countries, but last time I was on Teamspeak with my European friends they seemed to have no such luck. When I spotted Chicago Town Quiche's in Tesco this week I had to buy them to see if they live up to their legendary pizza counterparts. I couldn't wait, so I popped over to The Dude's instead of going home (further) to share my treasure!
Taking the Quiches out of the box, the first thing I noticed was that they are smaller than Chicago Town pizzas. I was quite naturally expecting something the same size and was a little disappointed. As often with these products, the gorgeous picture on the pack is larger than life.
The Dude's missus did the cooking but these things are generally easy and the cooking experience isn't really worth blogging. Its fair to say that, given our lax following of the cooking instructions, the quiches came out looking pretty close to the picture on the box, except in the middle which was perhaps hinting they could have been in a little longer (or the heat higher). I'd give them 3/5 for looks anyway.
Next of course comes the eating and they were definately nice. I had pangs for something even more cheesey though, and while they were certainly good, I'd take a Chicago Town Pepperoni or Triple Cheese Pizza over the quiches any day.
Overall: 3/5
Related articles
Comments(3)