Levi Roots Reggae Reggae Sauce
Monday 09 Apr 2007 18:07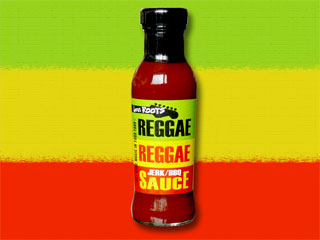 Levi Root's Reggae Reggae Sauce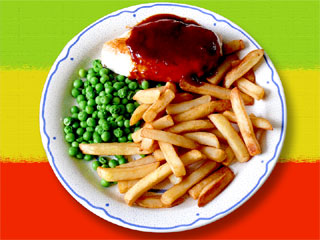 Chicken, Chips, Peas and Reggae Reggae Sauce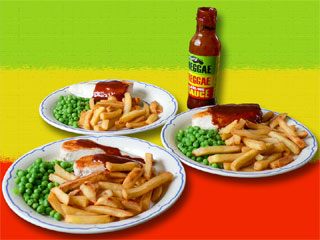 The hat-trick, dinner for three!
Today I cooked a meal for my parents and it was an ideal time to try the Levi Root's Reggae Reggae sauce that D had dropped off last week.
Levi Roots is the charismatic singer who appeared on the BBC's Dragon's Den show where entrepreneurs present their ideas to a panel of successful business people in the hope of funding for their projects. Made from his Grandmother's secret recipe, his family had been selling jerk chicken, ribs and the sauce at the Nottinghill Carnival for 15 years. Levi was successful in getting £50,000 of funding for his sauce from two members of the panel, each taking a 20% stake.
I cooked 4 chicken breasts in my George Forman grill along with oven chips and peas (with a little margarine). Afterwards I poured the sauce over the chicken. It pours very easily and I imagine if you used it as a marinade, it would penetrate meat like chicken quite well. I would describe it was mildly spicey with a wonderful sweet fruity taste. Afterwards my lips tingled quite nicely.
Levi's story certainly adds even more spice to his sauce and I'm sure its been part of his well earned success. I'll certainly be buying this sauce again. Now its time to think of more ideas cos the sauce needs using within 5 days of opening.
You can find more about Levi and his sauce at the Reggae Reggae Sauce website.
Photos taken by myself, cut out in Photoshop and overlayed on a background created with colours from the sauce bottle. The edges of the background were roughed up using the 'sprayed brushed strokes' filter. A drop shadow blend gives the images some depth and distracts from the less than perfect cut out edges.
Related articles
Comments(7)