Digital photos make great textures
Thursday 29 Mar 2007 20:36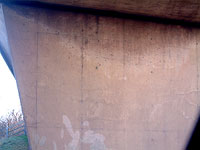 motorway bridge used
for the header texture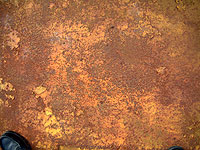 steelwork used for
page background
Web 2.0, web poo! I've gone for a design with no rounded corners and no friendly soft pastel colours. It seems like almost every blog you go to looks the same nowadays (one nice exception is The Dude).
The header background comes from a digital photo I took of the concrete wall of a motorway bridge. The red background from a digital photo of some old steelwork at the bottom of the industrial estate where I work. I used Photoshop's offset filter and stamp tool to make backgrounds repeat. The logo is a free font download with an outer glow blend effect. Saved as a png it can overlay the background image on the header.
All in all, just over an hour's work.
Related articles
Comments(0)