Cobra Beer
Monday 02 Apr 2007 18:55
The good things in life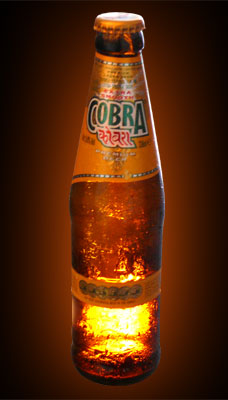 Cobra Beer founder Karan Bilimoria certainly hit me in the right spot with his idea for an extra smooth, less gassy beer. Having found my previous drink of choice, Smirnoff Ice, too acidic, I had turned to beers but found they often left me with an upset stomach. Then I tried Cobra Beer in an Indian restaurant and found it tasted great and didn't leave my stomach upset the following day. I've found it particularly good to drink with meals which was one of its founder's goals. Cobra Beer is 5% alcohol and considered a premium beer.
Tonight I picked up 2 4-packs of Cobra at my local Tesco supermarket for a bargain £6.00. That's just 75p a bottle! Readers from other countries may be interested to know that in Britain we can buy beer at 18 years old, from supermarkets, and we don't have to cover our alchohol in brown paper bags when we leave the shop.
The picture on the right is my own image taken with my digital camera. I sprayed the bottle with water (out of my mouth, I know eugh!) then put it on a glass table. I lit the bottle from underneath using the base from my lava lamp. Finally I cut it out and placed it on a black background in Adobe Photoshop. After expermienting with a 3 bottle image, I chose the single bottle with an outer glow blend effect.
Related articles
Comments(0)