Flooding hits North of England
Wednesday 27 Jun 2007 22:25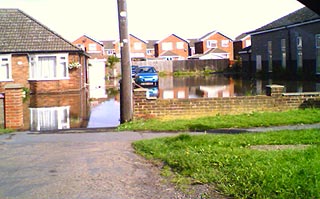 Flooded houses & church carpark
on our main road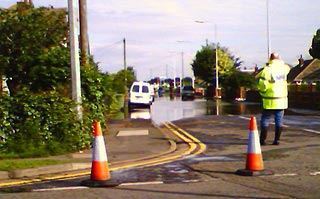 Some roads have been closed
The most intense rain ever recorded has brought widespread flooding to the North of England including my home town. I've lived here all my life and I've never seen flooding in this area. The journey home on Monday was a bit of a nightmare as I took my car through high water no less than 8 times - largely because twice I had to turn back and take a different route because of closed roads.
I can only sympathise for those who lost their lives and people who's homes have been damaged from flood water. It makes my problems seem a minor annoyance. One such problem is that my car is booked in for its MOT - a legal requirement to drive your vehicle in the UK. Unfortunately the garage where it is to be serviced has been unreachable for the past two days and its getting desperately close to the end of the month at which point my car will not be road legal (except to get it to the garage).
Dry windy weather has been a God send today and I can only hope it continues allowing the waters to subside and things to hopefully begin to get back to normal. Thinking towards the future I can see a huge hike in insurance prices as the companies attempt to regain some of their losses due to flood payouts.
It would have been nice to get out and take some decent photos but I was too busy working. These opportunistic pics were taken using my mobile but don't really show the worst of the flooding.
Related articles
Comments(2)