Travelling to Tokyo
Friday 26 Sep 2008 09:46
Tokyo Travels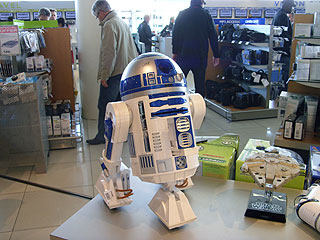 I set off with D to Tokyo today. I spilt my coffee all over my jeans on the first leg and ended up getting some news ones in Schiphol airport. Only problem is the only clothes shops are duty free designer fashion so I ended up with a rather nice but expensive pair of Diesel jeans for the rest of the trip. Schiphol Airport (Amsterdam, Netherlands) is full of neat stuff. I snapped an R2D2 hi-fi system and was tempted by the dark side to buy it (well almost).
The flight from Schiphol to Tokyo took 10 hours. Japan now has new immigration rules including some awkward forms with the usual lack of space to fit addresses in. More importantly, expect to get your photo and fingerprints taken (just your index fingers). Its all electronically done by friendly and efficient (in our case) staff.
We took a coach from Narita airport direct to our hotel for around ¥3,000 (£15). I was amazed by the politeness of the staff and promptness of the service. On the coach I heard the first of what I hope to be many funny Japan to English translations, "we remind you not to use mobile phones as this annoys the neighbours". The trip into the city took about 1 hour.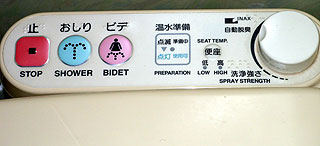 The hotel room is small but clean and comfortable. TV is hi-definition. In true Japanese style the toilet has a heated seat and water jet to ... well you know what. My advice is to try and relax when using this function.
Comments(1)