Spongebob Squarepants & Lyrics
Thursday 26 Apr 2007 16:32
The good things in life

Spongbob Squarepants Lyrics

Are ya ready kids?
Aye, Aye captain!
I can't heeeaaar yooouuu!
AYE, AYE CAPTAIN!

oooooooooooo.........

Who lives in a pineapple under the sea?
SPONGEBOB SQUAREPANTS!
Absorbent and yellow and porous is he.
SPONGEBOB SQUAREPANTS!
If nautical nonsense be somethin' ya wish.
SPONGEBOB SQUAREPANTS!
Then drop on the deck and flop like a fish.
SPONGEBOB SQUAREPANTS!

Ready?
Spongebob Square Pants,
Spongebob Square Pants,
Spongebob Square Pants,
Spongebooob Square Paaants!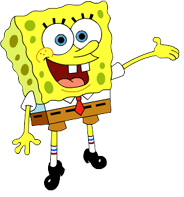 Continuing my 'The Good Things in Life' series, I have to mention Spongebob Squarepants. When so much of TV has gone down hill, Spongebob is a refreshing change.
The show centers around Spongebob Squarepants, a cute yellow sponge living in a surreal world under the sea. The world of spongebob is truly strange and the main 'in-joke' is the breaking of the physics of living under sea. For example the characters can still go and visit the seaside, have camp fires and drive vehicles (although they are usually boats on wheels). Spongebob himself is pretty flexible too - often seen being squashed, ripped apart or soaking up liquid (yep, even though he's underwater).
Another 'in-joke' is that should any of the characters leave their watery world and rise above the waves they are then seen as 'rather and quite deliberately poor' puppet imitations, no longer drawn as a cartoon animation. Also the show often features some live action with the pirate that sings the popular theme tune.
Throughout his adventures, most of which feature his best friend a pink starfish called Patrick Star, spongebob remains kind and friendly to a point of complete naivity of the bad things in life, many of which come from his urksome neighbour Squidward Tentacles or his thrifty employer Mr Krabs.
With its appealing characters and often clever and complex jokes, the show has managed to bridge across the gap between both a young and adult audience. I could go on and on about the world of Spongebob but the best thing for anyone to do is just watch it and see for yourself.
Related articles
Comments(10)