Harajuku, Shibuya, Takeshita Str, Tokyo
Sunday 28 Sep 2008 07:05
Tokyo Travels

Even before Gwen Stefani started singing about them, its long been an ambition of mine to take photos of the cosplayers (costume players) at Harajuku. Today was the day. There's lots of media so be sure to scroll down, click the pics and checkout the videos too!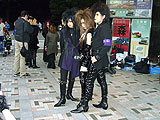 Harajuku Girls
Harajuku Girls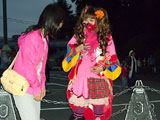 Harajuku Girl
Woken by maid service at around 11am it was clear jetlag had set in. Directly on the Yamanoti line which loops the busiest areas in Tokyo, Harajuku is easy to get to and was only 15 minutes from our hotel, a trip costing about £0.80. Arriving at around midday there wasn't much going on so we went straight in to Yoyogi Park to see the impressive Meiji Shrine and temple offering some great photo opportunites. On returning to Harajuku we found it a little busier and took a few snapshots but it was only when we came back closer to the evening that things were in full flow with many of the teenage fashion elite posing for photos while street performers sang and played and another group of Japanese were giving out free hugs.
Yoyogi Park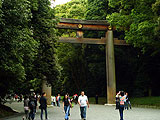 Meiji_Shrine
Before the evening we went down the nearby Takeshita Dori (street) which is lined with cafes, shops and fashion boutiques. Its was very busy and very interesting with lots to see including many of the strangely dressed Japanese youth in outfits such as 'Gothic Maid'. Exiting Takeshita Dori we walked up to Shibuya, one of Japan's fashion centres featuring the incredibly busy and impressive Shibuya scramble crossing surrounded by tall buildings and video screens.
Today I had my first game of Pachinko, and incredibly popular arcade game which involves firing pinballs around a vertical screen which then bounce off pins and if you're lucky enough will enter certain slots activating a fruit machine type video screen in the centre. The payout? ... more balls which you can trade in for prizes or use to continue playing. Pachinko halls are filled with these machines and the noise of them is almost deafening.
In another video arcade I finally got a video of Kidō Senshi Gundam: Senjō no Kizunathe multiplayer panoramic optical display (P.O.D.) video arcade game. If you've not seen it, be sure to check the video of P.O.D. which I've added to yesterday's blog where I first saw it.
Comments(1)