Ginza, Sony Building and Godzilla, Tokyo
Monday 29 Sep 2008 11:31
Tokyo Travels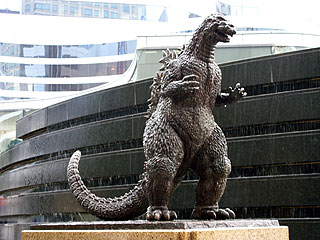 Godzilla Statue in Ginza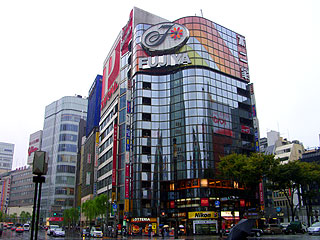 Ginza district, Tokyo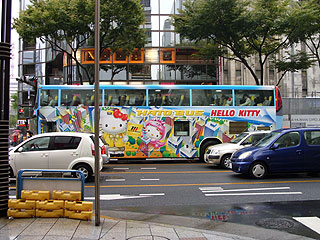 Hello Kitty Bus
It was raining today but that still didn't stop us getting out and seeing some of Tokyo. An umbrella is always a good idea this time of year (September) as it can rain alot. The idea was to find the Godzilla statue and visit the Sony Building. We set off early and found the Sony Building but it didn't open until 11am so we spent an hour walking around. By this time we had got lost and had to resort to our maps to try to get back there again. Still, we did get a good walk around Ginza which is a very high class shopping and business district.
The Sony building is a great place to view and play with Sony products. Hands-on is what its all about and whether its HD Handy-cams, VIAOs, Walkmans or any other Sony product, you actually get a chance to use them and mess about which in shops, you would not. The Sony building has a spiral staircase taking you from product to product until you reach other shops on the later floors. We had great fun posing in front of video cameras and trying out face recognition. One camera was so sharp I have to say I was embarrassed at the level of detail on my face, where enlarged on an HD screen, you could see every skin pore, black-head, spot and blemish.
One section of the Sony building has a 'Sony house' furnished with Sony products. Another showed the WATTage Sony products use and allowed you to choose different combinations for energy efficiency. Some products were 'coming soon' and it was nice to see such new developments. All in all it was a great place to spend a few hours, especially considering the weather. Sorry, but no photos for this location.
We followed the Sony building visit by finally locating the Godzilla statue and finding he was just a few hundred yards from the station we entered Ginza from. The statue isn't very tall and I'm surprised Japan didn't make a larger monument to such an icon. It was of course still a great photo opportunity.
Mainly due to the rain we came home mid-afternoon after I grabbed a couple more games of Pachinko. I still haven't fully figured it out yet. Anyway, the extra time has given me chance to catch up on my blogging.
Comments(1)