Cape Leeuwin Lighthouse, Western Australia
Saturday 22 Dec 2007 18:25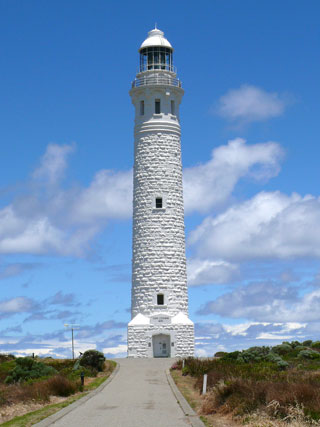 Cape Leeuwin Lighthouse is close to Augusta in Western Australia. It took about an hour and a half to get there by car from Bunbury where I am staying. I got off the busy Bussleton Highway and took Sue's Road where I was able to use cruise control (uninterrupted) for about 30 minutes on this little used short-cut to the south. Be sure to check out 'The Tavern' at Karridale for some gorgeous pies if you take this route.
I've been to Cape Leeuwin before but hadn't taken the lighthouse tour as previously I'd hurt my ankle jumping into a swimming pool. This year I was keen to see the view from the top and paid $12 (AUS) for the 30 minute tour which included some interesting facts and stories from the guide.
After climbing 176 steps, the view from the top of the lighthouse is certainly breathtaking. This is where the Indian Ocean meets the Southern Ocean and on some days you can see the swell where the two meet. Today wasn't one of them, but it is something I've seen the past.
Cape Leeuwin Lighthouse is 39m high with an elevation of 56m. You can read more facts about the Lighthouse here and you can watch my video of the view from the top below.
Comments(0)